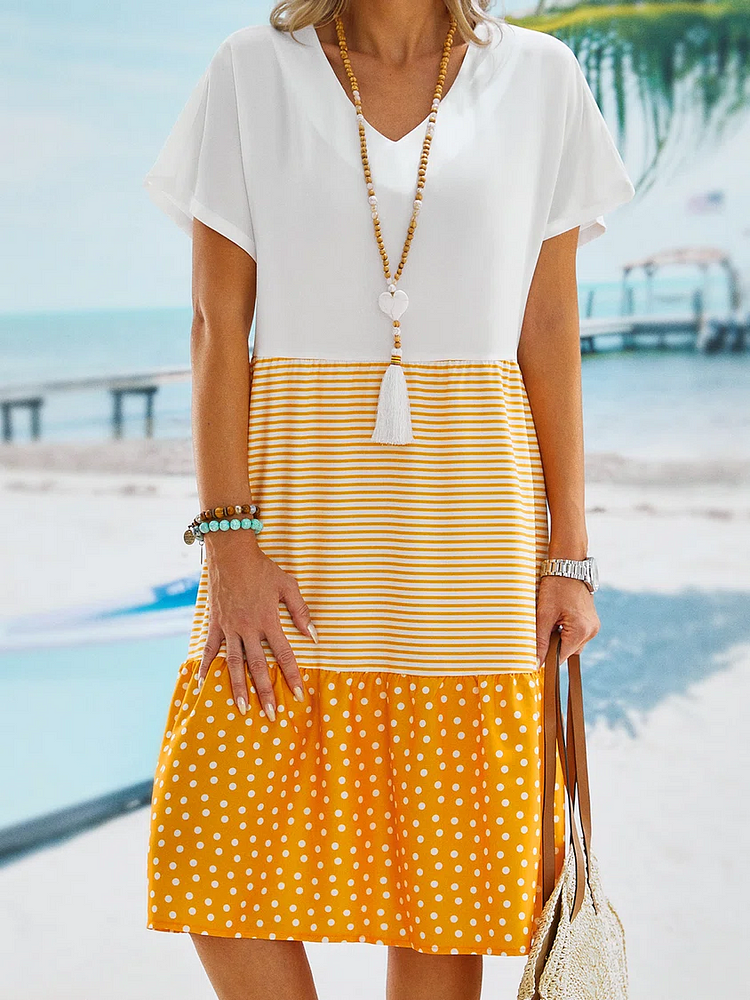 Description:
Edition type:Loosen
Dress type:A-line
Neckline:V neck,Round Neck
Sleeve:Short sleeve
Style:Vintage,Casual
Theme:Summer
Fabric:Polyester95%; Spandex5%
Size Chart
Size
Sleeve
Length
Waist
Bust
cm
inch
cm
inch
cm
inch
cm
inch
S
27.4
10.8
96.5
38
100
39.4
105
41.3
M
28.5
11.2
98.5
38.8
105
41.3
110
43.3
L
29.6
11.7
100.5
39.6
110
43.3
115
45.3
XL
30.7
12.1
102.5
40.4
115
45.3
120
47.2
XXL
31.8
12.5
104.5
41.1
120
47.2
125
49.2
If you're deciding between a small or large size, we suggest going with the larger size for optimal fit.

♥FREE SHIPPING OVER $69♥
✈

FAST SHIPPING WITHIN THE US

✈
1.What material are these made of?
We select premium fabrics ,each piece is made with materials that not only look and feel exquisite but also stand the test of time. We also prioritize sustainability by incorporating eco-conscious fabrics, ensuring that you can enjoy fashion without compromising the environment.
2. How long does it take to receive the items?
We have warehouses in the U.S./CAN/U.K./AUS. Your items will be delivered from the warehouse which close to you for faster delivery. It normally takes about 7-12 days for most cities (U.S./CAN/U.K./AUS).
3. How can I get a free shipping cost?
Free shipping on orders over $69. Coupon code for $10 USD OFF any purchase amount: NEW10
4.Does the item run true to size?
Yes!It runs true to the garment size chart please choose your size based on your measurements.